Let me share with you the best restaurants in Heidelberg, our lovely south German home, with its castle, old town, and river views. It's also a very popular day trip destination for international and German tourists alike. That means it can be a little challenging to find good food, as there are the usual tourist trap places with substandard dishes and high prices. I've collated the best restaurants for dinner, a quick lunch, German food, other cuisines, coffee, and breakfast below, because I'd hate for your visit to my town to be ruined by a bad meal. I've included a map at the end of the post so you can plan accordingly.
Looking for things to do in Heidelberg? How about my GPS-enabled audio tour? Need help getting from Frankfurt to Heidelberg?
Traditional German restaurants in Heidelberg
If you're looking for good German food, Heidelberg has definitely got you covered. We're at the edge of several different regions, so depending on your tastes, you can find something you like. For Flammkuchen, the popular thin-crust pizza analogue, the Marktstübel in Neuenheim is cozy in the winter and allows you to stretch out in the summer with their terrace under the trees in the Neuenheimer Marktplatz. You're a bit away from the Altstadt here, so you'll find mostly locals, but it remains one of my favourite restaurants in Heidelberg and we're there all the time in the summer.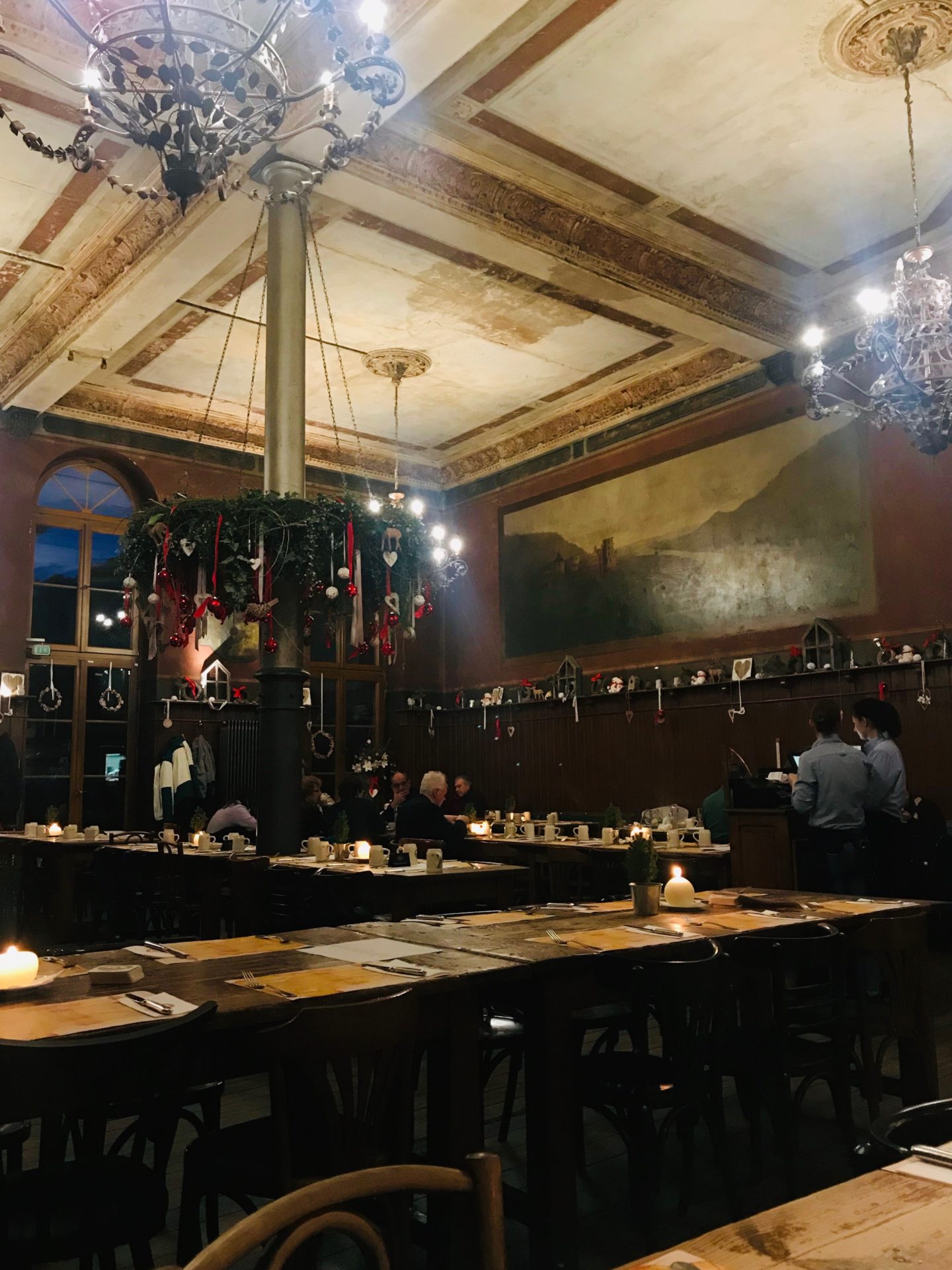 For a traditional big pork knuckle and local bier, the frequently recommended Kulturbrauerei in the Altstadt is a local institution for a reason. They also run the tiny old student pub Zum Seppl, and either one is atmospheric and lovely. They have much more than just pork knuckle, and it's easy to have a good salad, fish, or schnitzel and spätzle (thick Swabian egg noodles). Our favourite is the Palatinate wurst with mashed potatoes and sauerkraut. The Zum Seppl is a 300-year old student hang out and there are carvings all over the place, as well as fencing swords, photos, old drinking mugs, and all sorts of old student-y paraphernalia. When the university has been here since 1386, there are some very old student institutions! You will definitely need to make a reservation for dinner, particularly if you want to eat in the Zum Seppl, as it is very very small. 
There is a large and multi-generational Turkish population in Germany, so I include my favourite middle eastern restaurants here too. Mahmoud's has two locations, one off the big bus and tram exchange at Bismarckplatz, but the smaller one down a side street and in front of the red stone catholic church is one of best restaurants in Heidelberg. Their falafel with halloumi is something special for sure, and the prices are excellent. This will seem odd, but if you're over near the newer university campus, there is a secret I will share with you. In the Mathematikon building on Berlinerstraße, there are two grocery stores, a toiletries and cosmetics shop, and a few cafes. In the back of the REWE grocery store there is a counter serving chicken Döner Kebab, and I promise you, the sweet man that runs this counter makes an incredible Döner with fresh flatbread for shocking 2.80€. This is why there is a queue that starts at 11:45. If you're at that end of town anyway, it's perfect. I time my grocery shopping for lunchtime, for this very reason!
Where to find other food in Heidelberg
If you're a bit Flammkuchen and Schnitzeled out, no one would fault you for seeking something different. For a nice lunch, try Cafe Rossi near the Bismarckplatz, they also do a lovely late breakfast as well if you've been out late the night before, and have a decent kid's menu. We had a generous smoked salmon and bagel with fresh juice and tea. In the summer, they have a nice terrace with a little fountain that has been recently renovated.
Lunch with an indoor play space? I wouldn't say it's one of the absolute best restaurants in Heidelberg, but the restaurant at the top of the Galeria Kaufhof department store right on Bismarckplatz has a large area for kids with little slides and other toys. Getting to eat in peace is pretty amazing. The food on offer is a selection of standard German fare with a stirfry to order counter, cakes, and a salad bar. The views over the old town and the Heiligenberg across the river are amazing from this vantage point, so it's worth it even if you just want some coffee and cake and a bit of a break from walking. You do have to walk through the toy section to get there from the store, so take the outdoor elevator out front if you want to avoid this. 
In the tourist zone? Here's where to go
If you're near the Marktplatz, deep in the tourist end of Heidelberg, I would suggest going to Mahmoud's (mentioned above). Other decent options include Hans im Glück for burgers, or Vapiano for Italian. The other restaurants on the Marktplatz are overpriced and not very good, definitely not where the best restaurants in Heidelberg are.
Best places for coffee in Heidelberg
Germans are all about the mid-afternoon Kaffee und Kuchen break (coffee and cake), and Heidelberg is well served by places for a little sit down. It's worth noting the coffee tends towards the strong and Italian, not the American style flavouring and large sizes. The resident cool kid spot is Coffee Nerd, with excellent strong coffee and pastries. With locations in Weststadt and Neuenheim, Nomad has some of the best croissants I've had – they also serve breakfast and lunch. If you're going for authentic Heidelberg, it's hard to beat Göbes. This local bakery will have local specialties and seasonal treats. If you need some quiet and a bit of room to spread out, the cafe at the top of the Galeria Kaufhof department store at Bismarckplatz is your best bet, as mentioned above, with the added bonus of an indoor play space for small kids. 
Best places for breakfast and brunch in Heidelberg
My absolute best recommendation for brunch is the weekly Sunday brunch at the Weinstube in the Heidelberg Castle. That's right, you can have brunch overlooking the inner castle courtyard in a lovely dining room built right into one of the castle buildings. It's a three-hour affair with a full appetizer buffet, a main meal you collect in the kitchen and have a little chat with the chefs, and then a fancy dessert buffet. You need to book quite far in advance for this one, so if this is something you'd like to do, you need to book as soon as you know you will be visiting. Over in Neuenheim, River Café does a lovely breakfast in a much shorter time span, but again you will need to book ahead. In the summer, you can take advantage of their lovely terrace not far from the river. If you're looking for a budget option, the Wiener Feinbäckerei Heberer on the Hauptstraße does a nice range of German breakfast spreads: bread, jam and butter, served with slices of cheese and salami, and a few egg options as well. 
Here's a handy map:
Do you know a great Heidelberg restaurant I've missed? Let me know!
PS – Need help with packing for Germany? I've got you covered for packing for your Germany trip in spring or summer.
Pin this for later!