Not far from Frankfurt is the Hessenpark, an open-air museum that has over a hundred historical buildings from the region all in one place. It's open year-round, and has an impressive events schedule including cooking regional food, making local crafts, music making, and more. You can get to Hessenpark in about an hour from the center of Frankfurt, so it makes an ideal day trip.
I love open-air museums. We are a history-obsessed family, but even if you're not, it's such an easy and enjoyable day out. When you're traveling with kids, they can run and jump and explore without an adult constantly asking them to be quiet. Other adults get some time to actually read the information without being tugged onto the next thing. It's win-win really.
What is the Hessenpark?
In the 1970s, this park was created to conserve the history of the German state of Hesse, and take older houses that were being dismantled in villages all over the region. When a historic house can't be preserved in its original location, it is carefully dismantled and recreated in the Hessenpark, using historically accurate materials as far as possible. Now, there are over 100 buildings arranged in several little clusters in the Hessenpark, and it's still growing. When I originally read there were a hundred buildings, I thought, surely they are counting sheds and whatnot. But oh no, there really are loads and loads of huge buildings to explore.
One of the coolest things about this place is being able to walk up to a random building, and the door is unlocked! Kids love this part, because when else can you wander through a village and poke around in all the shops and houses? Some are set up as exhibitions, some are arranged with period furniture as they would have been 200 or 300 years ago.
How long should we plan for a trip to the Hessenpark?
It is easy to spend a full day at the Hessenpark and still not see everything. Between exploring the buildings, watching demonstrations, having lunch, letting kids burn off steam in the playground, and shopping, I would say not to budget less than a day here. You won't want to feel rushed. Ideally, you could stay overnight and split up your exploring.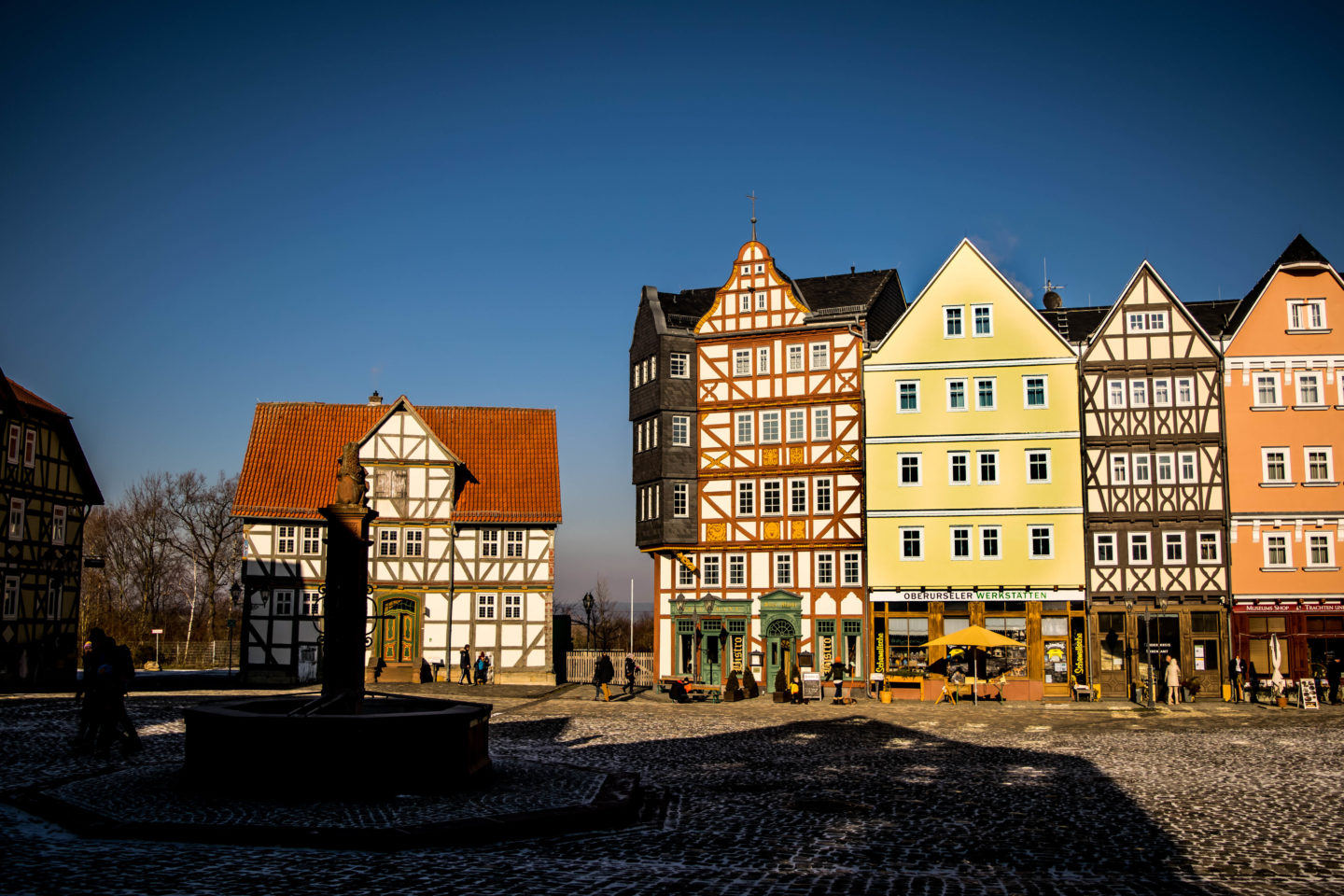 When is the best time to go?
The park is open year round, but as much of it is outdoors, spring through autumn is preferable. There are more activities going on in these months, as well. However, we visited in January, and it was still lovely, and there was lots to do. In Advent (late November through to Christmas Eve, 24 December) there is lots going on with a Christmas market and special events all through the park, so that would be a magical time to visit as well. They also do special events for Karneval (end of February, early March) and Easter. Check the event calendar on the Hessenpark website to see if there's a specific demonstration you'd like to see.
What is there to do at the Hessenpark?
You pick up a map upon arrival, and just wander, opening doors at random and exploring inside. The state of Hesse was known, 200 years ago and earlier, mainly for farming, wool production and weaving, flax production, and basalt quarrying. There are buildings or sites dedicated to all these traditional types of work in the park, even a little basalt quarry. As well as weaving, Hessen women were well known for their traditional openwork embroidery, and there is a fascinating upper floor of a house dedicated to examples of this fine work.
There are all the traditional workshops you would expect to find, including basket weavers, wheelwrights, blacksmiths, printers, roper makers, millers, and even historic firefighters and their equipment. Not every building is staffed, but you can peer in at the equipment, all set out to be used, like the workers have just stepped out for a moment. There is a full-sized windmill, a water wheel, and working farm buildings. There are chickens wandering around, pigs, and goats. In fact, the museum has been working to preserve local livestock breeds, so they aren't just your regular farm animals you can see here. In fact, this museum is playing a vital park in keeping some of these breeds from extinction. Look out for the Coburger Fuchsschaf, literally a 'fox sheep', that has naturally red wool when born. There's also the Meissner Lop rabbit, a long-eared black rabbit with gloriously shiny fur that was kept by Hessian farmers. We met some Thuringian goats, which are now endangered. However the Hessenpark goats are in fine form, in fact the kids regularly jump over the fences of their pens and wander around for awhile. The colourful local chickens walk around, completely uninterested in anyone, despite the trails of fascinated small children they have behind them.
There are also several places of worship in the park. A synagogue, and several chapels from different areas of Hesse, including a working organ that gets a work out every month or so with singalong events.
Eating and drinking
There are several places to have a meal or a snack on site. The Wirsthaus Zum Adler is a traditional inn on the market square, near the entrance, that serves traditional Hessian food, and there's a biergarten around the back (it's under renovation in 2019, unfortunately, check the site in case it's open again). The Alter Markt restaurant is part of the hotel in the park, and it is also in the market square, right next to the Zum Adler, and it's open every day from 6.30am – 10pm.
In May 2019, a Kaffeehaus is opening on the market square, also attached to the Landhotel, and they will be open on Saturdays and Sundays from 10am-5pm. Perfect for a spot of coffee and cake, I think.
Down by the playground in the North Hesse area is the Martinsklause, a pub-type restaurant with displays on brewing beer in the area. They have a lovely terrace seating area looking over the playground. This one is only open on Saturdays and Sundays however, from 11am-4pm.
The bakery in the market square is open daily from 10am-6pm March to October, and you can get bread, pastries, brezel, and cakes here. A perfect in between option if you're not up for a full meal.
When we visited in January, there was a small wheeled cart selling bratwurst in buns in the corner of the market square, and inside the Delikathessen, they were making hot waffles to order.
There's a hotel in the Hessenpark?
Yes! The Landhotel Zum Hessenpark (literally translates to country hotel to the Hessenpark) is right on the market square in the museum. Rooms range from €75-95 per night for a single room, €99-129 per night for a double room, and €129-159 per night for a triple family room. All rates include breakfast in the historic Alter Markt restaurant. To book, you need to fill out a form on the Landhotel Hessenpark website (in German only I'm afraid, but it's pretty straightforward). I think I'm going to ask for a night at the museum (literally!) for my birthday this year. How cool is that?
Proper shopping
There are several places to pick up some traditional wares within the Hessenpark. The Delikat(h)essen has shelf-stable foods to take home like mustards and vinegars, as well as plenty of beautiful pieces of kitchenware, and humorous mugs and tea towels. Next door is the Trachten shop, selling traditional clothes like dirndls and lederhosen, but they also stock tin toys, books, postcards, and more little pieces. Just so you know, dirndls and lederhosen are not costumes, but traditional clothing and many German people wear them to weddings and important family events, so don't expect to pick one up on the cheap. A good dirndl, with all its assorted pieces, easily costs upwards of €250, particularly from a quality Trachten shop like this one. Lederhosen start around €200.
There is also a woodworkers shop with wooden toys, games, and housewares, as well as many versions of the traditional Hessian stool, called a Schawellsche, and wooden trays for apple wine glasses, another traditional product of the region. One of the most popular shops is the brush shop. Family-owned for three generations, this little workshop continues to turn out brushes and brooms of endless varieties. If you need a brush for a special task like brushing down your felt hats or cleaning lamps, this is the place for you. When we visited, we couldn't even get in the door as so many people were coming in and out. The goldsmiths is not just a historic building either, but an actual working jewellery maker. You can even arrange to do a one-day class in jewellery making on site, though you have to book ahead as the courses are only for four people at a time and they are popular. There are lots of weddings at the Hessenpark, and you can even arrange to make your own wedding ring, guided by the jewellers, which I think is just lovely. 
Hessenpark entrance price and hours
The Hessenpark is open 1 November to 28 February only on Saturdays and Sundays from 10am-5pm, with last entry at 4pm. From 1 March – 31 October, they are open daily from 9am – 6pm with last entry at 5pm.
Entry price is as follows:
Adults €9
Children and students €1
Children under 6 free
Family ticket €18 (2 adults plus up to four children 6-17 years old)
50% family ticket €9 (1 adult plus up to four children 6-17 years old)
Dogs (including a dog poop bag) €1
There's free wifi near some of the buildings, which is marked on the map you can pick up for free where you buy your tickets.
There aren't guided tours or audio guides, but you'll find informative signs outside each building, in several languages, as well as detailed exhibitions in some of the buildings as well. The map you pick up at the entrance is easy to use and very clear.
How to get to Hessenpark
By train
Take the bus or train to Wehrheim or Neu-Anspach / Anspach Bahnhof. In Wehrheim, board the 64 bus, and in Neu-Anspach/ Anspach Bahnhof board the 63 bus and exit at Neu-Anspach / Hessenpark. From Frankfurt main train station, this journey takes a little more than an hour. The bus stops directly in front of the Hessenpark too!
On weekends and holidays, there is a direct bus service (no. 5 bus) from Bad Homburg / Gonzenheim and Bad Homburg / Bahnhof to Hessenpark.
You can book your ticket in English here:
By car
Hessenpark is about half an hour from Frankfurt, there is ample parking close to the entrance.
PPS – Need help with packing for Germany? I've got you covered for packing for your Germany trip in spring or summer.
Pin it for later!