Strasbourg in eastern France is a great home base for exploring Alsace and southwestern Germany, and I've collected some of the best day trips from Strasbourg right here. This region, from Alsace all the way over to the Rhine river valley in Germany, has shifted between France and various kingdoms of German princes and dukes. This means a glorious combination of German and French influences in everything from architecture to food. This also means there are loads of different places to visit within easy striking distance: from huge theme parks to quaint winemakers' villages, Dostoyevsky's favourite casino to famous castle ruins.
Baden-Baden
This 19th-century spa town on the edge of the Black Forest has been a getaway for French and German people for over 200 years. Take a relaxing day at one of the historic thermal spas, tour the art galleries and shops, and relax. I recommend a good four hours at the Caracalla Therme spa baths, which do allow children, and even offer a childminding service if you'd rather enjoy the waters and steam rooms on your own. You can skip the clothing-free German sauna experience and still enjoy the waters in outdoor and indoor pools, steam rooms, and even a brine inhalation room. It's a very relaxing experience. Afterwards, make sure to try some of the local food, like Maultaschen (a sort of German ravioli, often served in broth) or Käsespätzle (cheesy egg noodles topped with fried onions) paired with a local wine. A Baden-Baden day trip from Strasbourg is easy, as it's a quick half-hour trip by train (book your train here in English Strasbourg-Baden-Baden), or you can arrange a half-day tour with a guide from Strasbourg.
Freiburg
On the edge of the Black Forest is Freiburg im Breisgau, a picturesque university town. There are plenty of canals, and little streams that appear out of nowhere, running down specially made channels in the streets and sidewalks (local legend says if you step in one accidentally, you are destined to marry a Freiburger). The medieval old town was completely destroyed during the Second World War, but meticulously rebuilt. It's full of sidewalk cafes, playgrounds, little courtyards, and holds the title of the sunniest spot in Germany. The city also housed a large contingent of the French army after the Second World War, so there's a distinct French flavour to the cafes and restaurants, though you will still find it easy to get a glass of Baden wine, as there are many vineyards in this region. It takes about two hours on the train one way to get to Freiburg (book your train here in English Strasbourg-Freiburg), so it's one of the easiest day trips from Strasbourg.
Colmar
South of Strasbourg is the popular day-trip destination of Colmar. Many towns were ransacked during the French Revolution, but Colmar managed to emerge nearly unscathed, so the old city centre has buildings ranging from the 13th century to the neo-baroque early 20th century. If you're a fan of the Studio Ghibli film Howl's Moving Castle, you will quickly notice the landscape of this animated film is heavily based on Colmar. It's really worth booking a tour on one of the little boats in Little Venice, as well as one of the little train tours, as you see two completely different parts of the town. Remember to look up, as the houses are painted with complicated details all the way up to the eaves. Colmar is gorgeous any time of year, but it's truly spectacular from May onwards, when all the flower boxes are out with their riots of colourful flowers tumbling down.
You're right in the middle of Riesling central here, so make time for a meal of local specialties like tarte flambée, a thin-crust sort of pizza with a creamy cheese, lardons, and onions, and pair it with a local wine. Coq au Riesling is of course a traditional dish here, which is chicken poached in the local white wine. It's often served with potatoes or Spätzle. This is a very easy town to navigate with kids with its small scale and many courtyards. Colmar is a quick 30-minute train journey from Strasbourg (book your train here in English Strasbourg-Colmar), and if you only choose one of these day trips from Strasbourg, make it this one!
Riquewihr
Just north of Colmar is Riquewihr. This is tiny walled medieval village right in the middle of the region's vineyards, and it is properly picturesque – in fact it has been named one of les plus beaux villages de France, or one of the most beautiful French villages, and it's on the Alsace Wine Route. It is almost entirely preserved from the 16th century, and every corner is an Instagram moment waiting to happen.
We were there in February, when it's probably at its least attractive and we still had a lovely time. You can climb the hills in the vineyards (if you're with kids, keep them away from the vines, this is someone's livelihood after all) above the town the gorgeous views over the vines, and wander the streets. The restaurants here don't really cater to budget travellers, though lunch set menus are not too bad, so I'd suggest heading back before the dinner hour. You can also check out Kayersburg Castle ruins above the town. Riquewihr is not served by the train, but it's a 25-minute drive from Colmar. You can take a guided tour of several of the surrounding villages from Colmar, which solves the transport problem.
Europa-Park
Europe's biggest theme park is probably one you've never heard of. Europa Park is in the Black Forest, and has been run by the same family since its opening in the 1975. There are 13 roller coasters, and regions all over the 950 thousand square meter park for Russia, Sweden, Germany, France, Italy, Greece, Iceland and many more. There are loads of water rides, themed hotels and restaurants for many of the regions, and endless shows and entertainment. Anyone who has grown up in the region will get misty eyed at the mentioned of Europa-Park, remembering fondly school trips and special summer holidays. The park still closes for the winter months, so check ahead for opening times. You can buy your park ticket ahead of time too.
Haut Koenigsbourg Castle
This castle south of Strasbourg was built in the 12th century, and both the Habsburgs and Wilhelm II have owned it at one point or another. Haut Koenigsbourg was restored extensively by Wilhelm II in 1900-1908 roughly to the era of the 1700s, with heavy emphasis on its Germanic roots. This was Wilhelm's attempt to bring the newly acquired Alsace region into the German empire and make them feel included. While the reconstruction does lean a bit heavily to the Romantic idea of castles that fuelled the huge castle-rebuilding boom of the early 20th century, historians now admit it was not entirely badly done, and does reflect the lines of the original buildings and fortifications.
You can tour the castle on your own with an audio guide, and unusually, this castle is open year round. There is a tavern on site, and in the summer months a snack bar with outdoor seating too. If you want to save a few Euros, pack in a lunch and eat in the picnic area, you can even book a picnic table under cover from the elements, just contact the castle ahead of time. From March to December there is a shuttle bus running from the Sélestat train station, which is a 20-minute train journey from Strasbourg (book your train right here in English Strasbourg-Sélestat). It's worth noting you can't take buggies into the castle, so be prepared to park it outside and carry or walk with any children. 
Heidelberg
Our gorgeous old town on the river Neckar, long pedestrianized main shopping street, and huge romantic castle ruins looking over everything make Heidelberg a very popular day trip for everyone visiting the area. Of course, as a resident I would tell you to stay for a weekend, but a day trip is lovely too. Take in the city museum first, then have a leisurely lunch before heading up to the castle – and do the guided tour! Sitting between the Pfalz, the Black Forest and Swabia, the food options here are extensive. You can enjoy Flammkuchen (the German term for a tarte flambée, it is the same dish), tender Schwarzwälderschinken (Black Forest ham), Maultaschen (Swabian ravioli type pockets served in broth) and Spätzle (tender egg noodles).
This is a little further afield than some of my other suggestions, but Heidelberg Castle is very impressive, and as we often make the journey from Strasbourg to Heidelberg with guests, I think it's worth it if you're keen on the history of the region. It's a 2-hour trip by train (book your train right here in English Strasbourg-Heidelberg), or a 90-minute drive from Strasbourg to Heidelberg.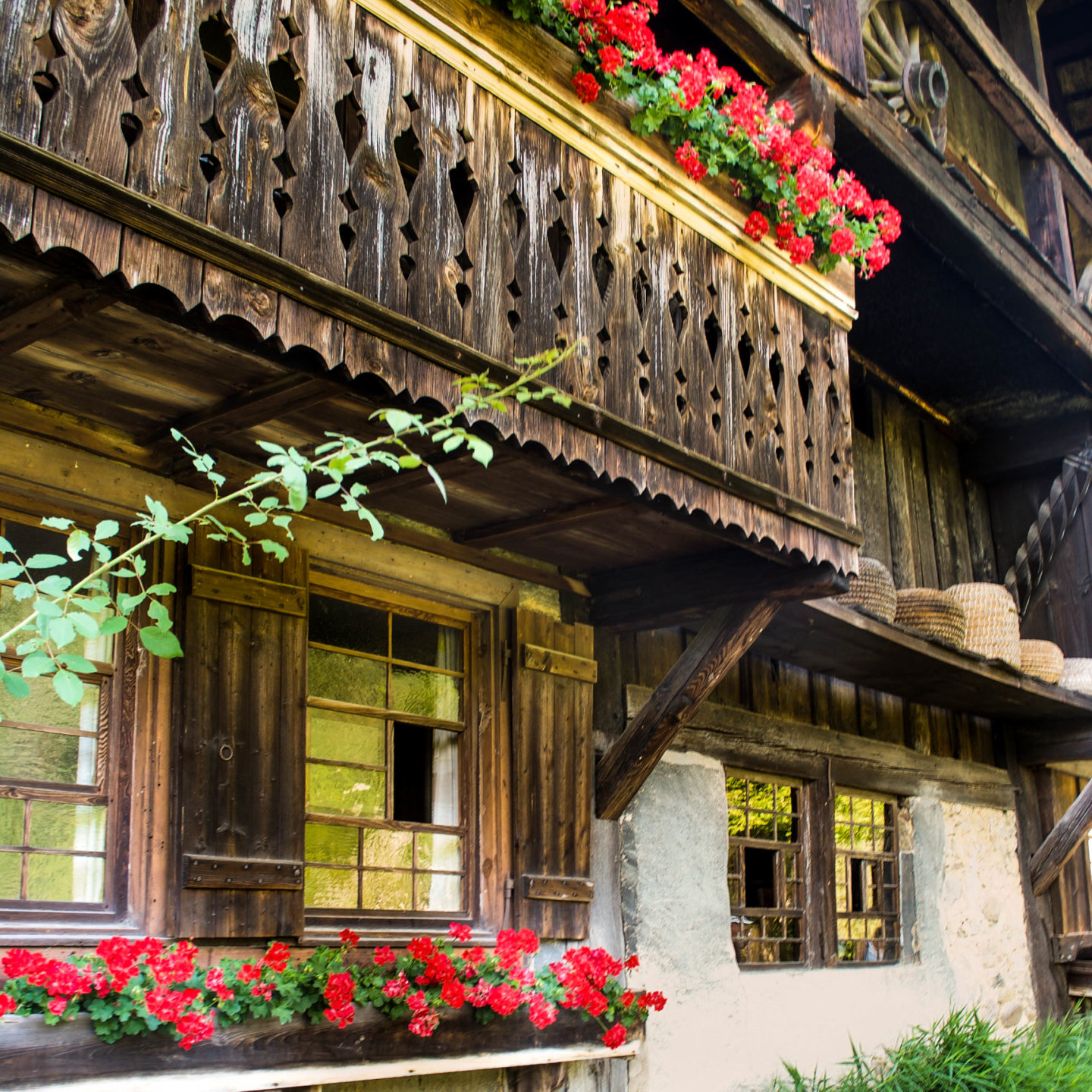 Black Forest Open-Air Museum
This is one of our favourite places to bring out-of-town guests in the region. While Freiburg and Baden-Baden are on the edges of the Black Forest, the Black Forest Open-Air Museum is right in the depths of it. You get a real sense of what it was like to live and farm in the forest 300-400 years ago. There is a misconception in English-speaking articles that the Brothers Grimm lived in the Black Forest, but they didn't — they lived and worked further up north towards Kassel, but the illustrations in many picture books definitely look like they were inspired by the half-timbered houses in this region.
There are quite a few huge old houses, filled with furniture and tools of the time. Volunteers in costume demonstrate local crafts and skills, and you can greet horses, pigs and chickens. There are several exhibitions just for kids to clamber through, and a great playground with a little cafe and tables right there. The larger restaurant is great for a coffee and a big slice of the eponymous cake. It's very different from Strasbourg and the surrounding area, so you will definitely feel like you're seeing something new. It's a good two hours on the train from Strasbourg but there's a stop right by the museum that is open in the summer, but it's an hour's drive by car.
Do you have a favourite spot near Strasbourg?
Pin it for later!