As of July 2022, the Heidelberg Christmas Market 2022 is going ahead from Monday 21 November 2022 – Thursday 22 December 2022
---
Our Christmas market in Heidelberg fills every one of the squares in our Old Town, stretching along the decorated pedestrian main street culminating in an ice rink right below our glorious castle. It's full of locals enjoying the season every year. We go to the market five or six times each year, as well as visiting other nearby markets too, at all times of day, and all days of the week. It's one of my favourite places to buy gifts to send home to my family. If you're the kind of person who collects special ornaments from your holidays, you will have so many to choose from it will make your head spin.
Is the Christmas Market enjoyable if you're not really a Christmas person? Definitely! This is much more of a wintery, festive thing than an overtly consumerist, flashy religion thing. The religious content is very minimal, and you'll find everyone celebrating the cold weather and… well… Glühwein!
So pull on your warm socks and walking shoes, here's your local's guide to enjoying our lovely Christmas market here in Heidelberg.
When is the Heidelberg Christmas Market open?
The Heidelberg Christmas Market 2022 runs from Monday 21 November 2022 – Thursday 22 December 2022.
Generally, the schedule runs like this: each day, the stalls and ice rink opens at 11am, and close up around 9pm, except on Saturdays when they stay open a bit later until 10pm.
NEW in the HEIDELBERG CHRISTMAS MARKET as of 2019!
This year the market vendors have gone all out to make it feel even more special and Heidelberg-y. One stallholder spent nearly half a million Euros building a half-size replica of the giant (and I mean seriously ginormous) wine barrel at the Heidelberg Castle for the Christmas Market. Not only can you buy Glühwein, but you can reserve a table INSIDE the wine barrel (which has several tables and a chandelier, because obviously), and even stand on top on the special patio. This incredible structure is in the main Marktplatz next to the large church. The beautiful pyramid Glühwein stand with the traditional revolving structure has now shifted to the big market at the Universitätplatz. The market organising committee has also put special emphasis on stallholders using as much local produce and wine as possible.
Where is the market?
There are little markets spread all along our pedestrianized main street, the Hauptstrasse. Starting at the Bismarckplatz, the main bus exchange, you can visit six along your walk. Some are just a small collection of stands serving food and drink, with a smattering of mugs and decorations, like the one at Bismarckplatz. But the last three, at the Universitätplatz, Marktplatz, and Kornmarkt are quite large. I've made a special map just for you, scroll down to see it.
Is there a Christmas market up at the Heidelberg Castle?
You will probably read about a market at Heidelberg Castle, but this is no longer happening as of 2016. Endangered bats nest and hibernate in the tunnels below where the Christmas market used to be held. It was decided that the market was too disruptive for the bats, so the stalls that used to be there were moved down to another square in the city that year. It was off the usual route, however, and I don't think they did that well, because the next year those stalls were included in the main market locations. However, you can enjoy ice skating in the Karlsplatz directly below the castle.
What is there to do at the Heidelberg Christmas Market and when to go
Just soaking up the festive atmosphere is one of the best activities, to be honest, but a gentle stroll through the markets is what we locals do. The most magical time is around dusk, when all the lights come on and it feels like you're walking through a Christmas card. If you've got kids with you, head straight for the Universitätplatz market to save little feet. At the centre is a big old carousel, and even though my son knows it well, he always wants at least three rides!
The Kornmarkt is set up as a little forest, with loads of pine trees on stands, all entwined with lights. Between the trees is a mini-train the kids can ride, and again, a good two or three times around seems to be required! The giant windmill-style Glühwein stand that is an iconic Christmas market staple is set up in the main Marktplatz, as well as a smaller carousel. The ice skating rink is one market square beyond the little wood, in the Karlsplatz. You can rent skates there, and take a few turns around the rink to music, with the castle lit up right above you.
Each day, the stands and the ice rink opens at 11am, so if you're looking to buy gifts, early afternoon is a great time to do so with minimal crowds. Because the market is so spread out, it doesn't often get too crushed. The stalls close up around 9pm, 10pm on Saturday nights. Weekends are definitely busier than weekdays, as daytrippers come in from across Europe.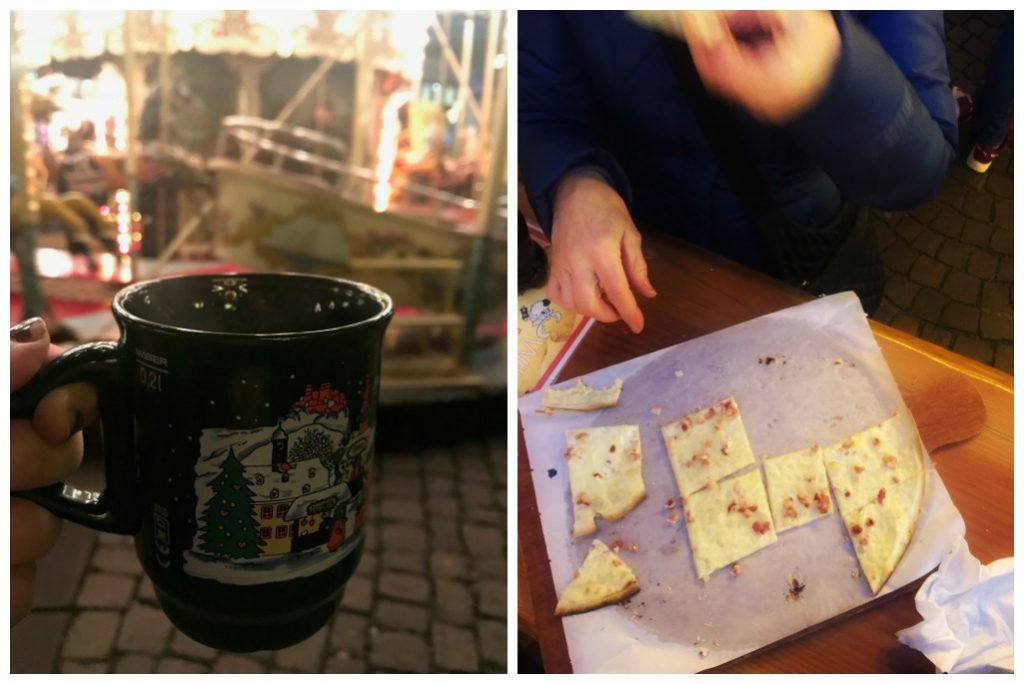 What to eat at the Heidelberg Christmas Market
What not to eat?! Come hungry, because there's lots to choose from. The ubiquitous Bratwurst is everywhere of course, served in a small bun (think of it as an edible handle). If you like it spicy, go for the Feuerwurst. There are steaks and venison sausages cooked on the big round grills. There are usually several vegan food stalls as well, if you'd rather skip the meat. Local to our region is the Flammkuchen, a very thin crust pizza topped with onions, bacon pieces, and a mild soft cheese more like cream cheese than mozzarella. There are infinite variations you can get though, including ones with mozzarella on them, veggies, pesto, and more. These are cooked to order, and are a good crowd-pleaser, as everyone just tears a piece off. Just keep ordering until everyone is full.
One of my favourite treats is the Kartoffelpuffer, which is a bit like a hashbrown patty, but it's deep-fried fresh to order, and you can have either Apfelmuss with it (apple sauce) or avail yourself of the ketchup and mayo there. Sweet and savoury crêpes are available all over, as well as sides of salmon grilled over an open fire. Hot waffles drizzled in Nutella, or sprinkled in sugar and cinnamon is another favourite. My son's tip for the best sweet crêpe: order the Kinder Riegel one, where they put a thin chocolate bar (or two if you're lucky!) made of milk and white chocolate in the middle, and it melts and gets all gooey inside the crêpe. There always seems to be a few stands that will dip a skewer of fruit in molten chocolate for you as well.
If you're looking for a more portable treat, cotton candy, or Zuckerwatte, is popular, as well as bags of candied nuts. There are always colourful stalls full to the brim with candy that seems to attract children like a magnet. The decorated heart-shaped cookies hanging outside are pretty, but pretty hard to eat.
Would you like to sit down inside somewhere and eat? Here's my post on all the best places to eat in Heidelberg.
What to drink
Glühwein of course! Because Heidelberg is in the middle of several wine regions, if you do a little searching you can find the more delicately spiced Weißglühwein, which is my particular favourite. If you order it 'mit Schuß' you will get the choice of a shot of rum or Jägermeister in your hot sweet wine for an additional Euro. For some theatre, seek out a Feuerzangenbowle stall to watch them set a rum-soaked sugar cone on fire, above a cauldron of Glühwein. And then have a mugful, obviously. For kids and nondrinkers, you can find Kinderpunsch at every stand that serves Glühwein, which is a hot spiced fruit juice.
The mug you're served your Glühwein in is reusable, and when you buy your first mugful, you have paid a deposit, or Pfand. You can walk up to any other Glühwein stand in the market and pay for a refill. If you'd like your deposit back, when you're finished the night you can return your mug to any stand selling drinks, and they will refund you – don't forget, it's 3€ a mug! I think everyone in Heidelberg has a few of these at the back of the cupboard!
Where are the best coffee shops in Heidelberg? It was a hard job but I tested them for you.
What to buy
On average, I find the prices at the gift stalls very reasonable for the quality of the work. A lot of these people spend all year making things to bring to the Christmas markets. Some of my favourite things to buy as gifts at the market include:
Sheepskin slippers
We are a farming region down here, and there are a few stalls that only sell sheepskin products, and the slippers are so incredibly warm. They have gorgeous proper sheepskin throws as well, but these are pricey. They are also the best quality ones I have ever seen.
Felted pouches
Who doesn't need another pouch to keep train tickets, small change, or glasses in? These stands also feature some incredibly detailed children's slippers with curled toes. If you have an elf-obsessed small person, this may be your perfect choice. There's also a good selection of felted flowers to pin to a coat or hat.
Wooden puzzles
The wooden puzzle booth is always a favourite stop. From classic ball mazes to more complicated Escher-like twisting baubles, everything is made in good-quality wood, oiled and stained. Not just for kids, most of these games would look perfect on a bookshelf or desk.
Christmas decorations and lanterns
It's a tradition in southern Germany to put a lit-up star lantern in your window. Accordingly, some of the most beautiful stalls are the ones hung with many lanterns, all glowing in the evening. There are metal punched-hole ones from Morocco, and paper ones of all shapes and sizes. The paper kind will flatten down, if you're concerned about suitcase space. There are many options for more traditional wooden decorations as well. If you really want to invest, visit the Käthe Wohlfahrt store at the corner of the Unveristätplatz market –– they have full Christmas scenes that move with the heat from a candle, miniature (and not so miniature) Christmas pyramids, and pretty much everything Christmas you can think of. The prices are much higher in here, but if you're looking for an heirloojm piece, this is the place.
Chocolate tools
This sounds so strange, but there is a stand behind the carousel in the Universitätplatz market that sells chocolates in intricate shapes of tools, cameras, cars, keys, and kitchen implements. It's worth a look even if you don't buy anything, because they are incredible.
Heidelberg Christmas Market insider tips
We visit many times over the season, as well as many other Christmas markets in nearby towns. Here is what we've learned:
Wear comfortable shoes and warm socks because you will be walking and standing the whole time
Bring a reusable bag for any purchases
Wear a hat and a scarf, and bring gloves, it gets quite cold when you're out for several hours
Don't bother with an umbrella if it's raining, there are too many people, just wear a hat
If you're not into walking a long way, take the bus to the centre of the market and start there (see below)
How to get to the Heidelberg Christmas Market
The Christmas Markets are easy to reach in Heidelberg, as is Heidelberg itself. Regional trains reach the city with a change in Mannheim – for more details on how to get from Frankfurt to Heidelberg, I've written a whole post for you. From the Hauptbanhof (main train station), you can take any tram or bus marked for Bismarckplatz to walk the whole length of the markets. If you're looking to save your energy, take the 32 Bus to Universitätplatz and that will bring to the heart of the bigger markets. If you're driving, you will want to park around the edge of the Altstadt and walk in. I've marked two good parking garages on the map below, as well as where the markets are, the train station, and where the bus drops you.
BONUS market to visit: Kloster Neuberg
NOTE: The Kloster Neuberg market is open again as of 2019!
Not part of the city markets, but well worth a visit is the little market at the Stift Neuberg. This is a still functioning monastery down the river a bit from the city. The market is on the grounds of the historic farm that is run separately from the monastery these days, and it features cows, goats, and an excellent brewery. If you've been craving beer but could find nothing but Glühwein, this is your stop. It is much smaller than the other markets, but it's much more rustic. The craft stalls are inside the barns, and there is sometimes a small carousel. Fresh Flammkuchen is always available, along with hot waffles, Kartoffelpuffer, and Bratwurst. If you're lucky, they will be roasting a pig on a spit above a woodfire. This market is much quieter, so if you want a little magical local experience, this is worth it.
To get there, you can take the bus 34 to the bottom of the hill where the monastery is (marked on the map above), or you can take the Weisse Flotte boat along the Neckar (departure pier also marked on the map). The boat is more like a little ferry, you don't need to book ahead. I wouldn't recommend driving, as parking is a right pain. It is a big walk up a hill, but there are more sitting options than in the bigger markets, so you can take a rest once you get up there! Also, wrap up warm, it is at a higher elevation. If you're really lucky, it will snow!
Enjoy your trip to the markets in Heidelberg, we really love this time of year in our adopted home.