Cochem is a beautiful riverside town along the river Mosel in western Germany. It's a popular stop on the short haul river cruise route, and for good reason. Surrounded by vineyards climbing up the steep sides of the river valley, and topped off with the magnificent Castle Cochem, this town is a perfect weekend trip. 
Is it Mosel or Moselle?
You have probably seen both Mosel and Moselle when referring to this area, and both are correct. The Mosel spelling is used in German, and Moselle in French. This river runs through France as well as Germany, and this area has historically been quite fluid between the two empires for hundreds of years.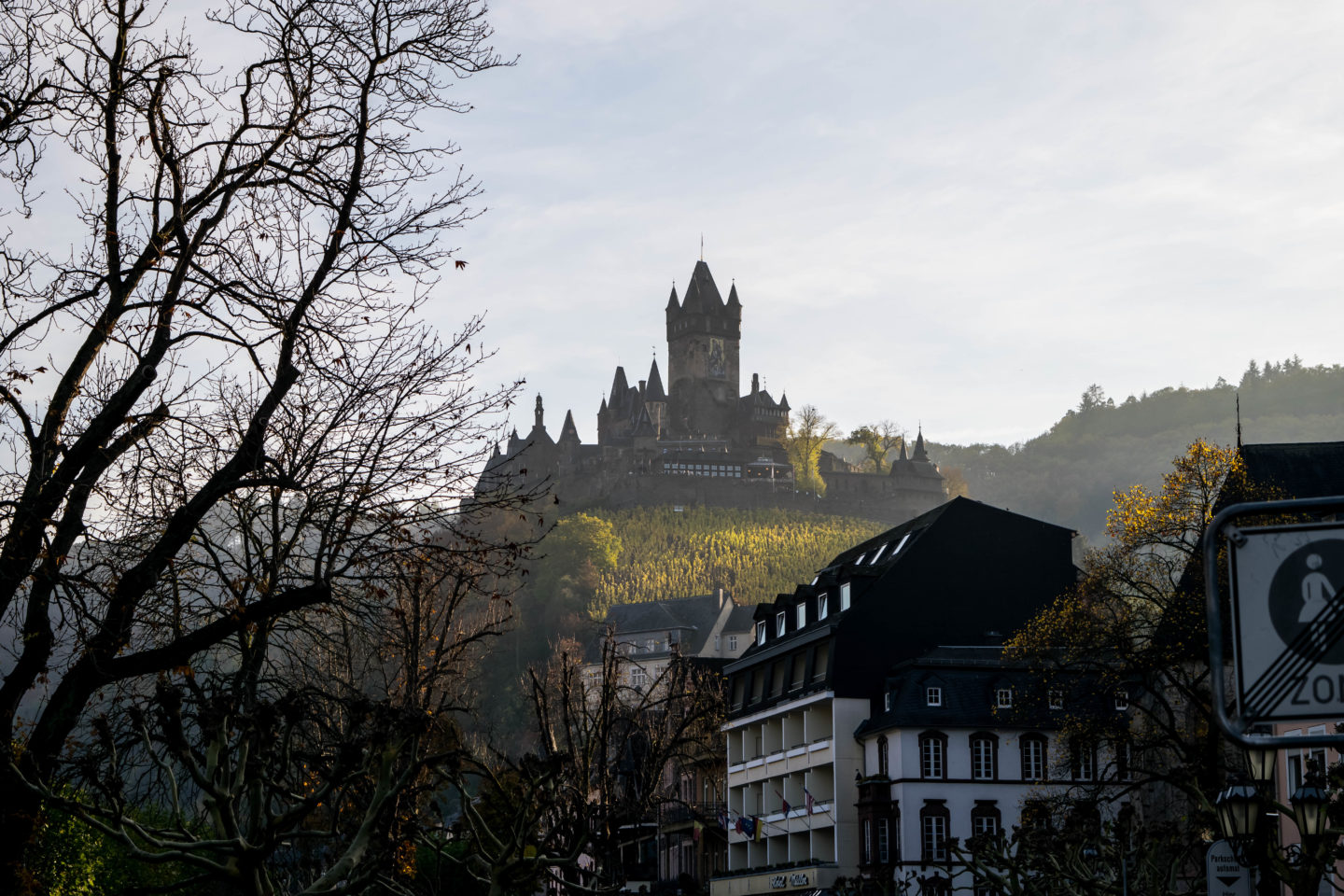 A
 

bit of history

Cochem has been a settlement as far back as Celtic and Roman times. It's first mentioned in print in 893. Like many towns cities in this region, it passed from Germanic rule to French and back again over the years. The Thirty Years War took its toll, and like many castles in western Germany it was burnt and destroyed. The rebuilding of Cochem took many many years, interrupted by several changes in leadership from the Archbishop of Trier to the French crown and then to Prussia. The bridge over the Mosel in Cochem was only built in 1927 however, so the houses on the far side from the castle were originally the separate fishing villages of Cond and Sehl. Much of the Cochem old town was destroyed during the Second World War, and there was a subcamp of the Natzweiler concentration camp was near the city, provided forced labour for Bosch. 
Best times to visit Cochem
We have visited the Mosel valley many times, and it's a great favourite with our visitors. I swear there isn't a bad time to come. In summer it's beautifully leafy, with grapevines in leaf all over the buildings and stretching across arbours. Many restaurants have terraces overlooking the river, and we've had several long dinners with very local (literally grown 500 meters away from where you're sitting) wines to match outside in the fading sunshine. This autumn we visited for a weekend when the leaves were changing, and it was truly breathtaking with all the vineyards changing colours at different rates. 
Cochem Castle
This impressive castle towers over the town of Cochem. It is one of my favourite castle tours to date (and you know I've done loads of them), and will satisfy your castle desires for sure. It's worth noting this is a good kid-friendly tour as it isn't too long, and you can take photos inside, which is very unusual. You can read my full post about visiting Cochem Castle too. 
Hiking, biking and exploring
There are many hiking options around Cochem, from easy walks to multi-day hikes from town to town. It's a very rewarding area for exploring, as the vineyards wind among the hills and there are incredible views at every turn, both into the valley and the river and the fields beyond. Because Cochem is in the steep Mosel valley, however, most hikes will involve a lot of climbing. The main flat walking options are the trails along the river. If you want to rent a bike to take advantage of the beautiful flat path alongside the river, Radsport Schrauth rents out bikes with kid trailers or rear child seats if you contact them to reserve ahead of time. 
Boat rides
You can take a quick roundtrip tour from right under the main bridge in Cochem, that will take you a little way down the river and back. You can also catch one of the popular hop-on hop-off cruises that run down the Mosel and Rhine, but do check the timings, because as the boats go against the flow of the river, they can be quite slow. Sometimes it takes twice as long to get back as it does to go out, and it's hard if you've got an impatient child with you. However, most of these boats also offer at least snacks and drinks on board. You can also catch a train from most of the stopping points if you get stuck. That being said, it's a beautiful, relaxing way to see the incredible castles and cute towns along the river. The best time to do this is, is in the summer, as from mid-October to March, most of the companies only run a very limited service. You don't need to buy tickets ahead, but if you'd like to plan it out in advance, the main companies are KD and Kolb.
Bundesbank bunker
This underground bunker was where the German government stored their emergency supply of 15 billion Deutschmarks in case of a sudden currency crisis during the Cold War. It's no longer in use, and you can go deep underground to see the place with a guided tour. Tours leave every hour (double check the website), but there's not much to see above ground until you go down, so I wouldn't plan on arriving too early. It's quite a way up from the town of Cochem itself, so take advantage of their shuttle bus that leaves from the old town. 
We didn't visit the Bundesbank bunker, despite staying right next to the thing, because I am not big on extended trips below ground! I take a pass on all cave trips, mining museums, and bunkers. 
Places to visit within easy reach of Cochem
We drove a little way to see the Bremm Bend, a famous spot where the river Mosel makes a hairpin bend. The vineyards climb up the impossibly steep valley, and I couldn't help but admire the viticulturists who built the narrow terraces and climbed up to plant those first vines. The little tiny rail cars the vineyard works use now to bring tools and materials up to the top of the hills are often parked at the bottom of the hill, so you can imagine ratcheting up those hillsides like the beginning of a roller coaster ride. 
One of our favourite castles ever, Burg Eltz, is not so far away (though it's worth noting you can only see inside during spring, summer, and early autumn). There is a short train ride to Treis-Karden, and then the Burgenbus that goes straight to the castle. Outside spring and summer, take a train to Moselkern, and then you can do the 5km hike or take a taxi up to the castle. You can book your train right here, in English:
Where to eat in Cochem
Like many smaller German towns popular with tourists, the restaurants fill up quickly, so if you see something interesting in your daytime wanderings, go in and book a table for that evening right away. We didn't get organized, but ended up in the restaurant of Hotel am Hafen and it was lovely straightforward German cuisine: schnitzel, bratwurst, local wine. We tried to make our way into Ristorante Da Vinci, a pizza place with good reviews, but the small restaurant was full to the brim. The smell coming from the kitchen was pretty amazing though. 
For Kaffe und Kuchen (cake and coffee break), the local favourite was obviously the Cafe Flair with loads of cake, fancy coffees, and light lunch options. There is a huge terrace area, but if you're visiting when it's colder out, there is a busy ground floor as well as a more spacious upstairs, with nice views over the Mosel.
Wherever you end up, make sure you try some of the local wine, it is affordable and lovely. Keep in mind the German wine names may hide some familiar favourites – Grauburgunder is Pinot Gris and Spätburgunder is Pinot Noir. The Mosel valley is most famous for its Reisling wines, but you choose your sweetness by asking for 'Trocken' (dry), or 'Halb Trocken' (half dry). 
Hotels in Cochem
We stayed up the hill by the Bundesbank Bunker at the Hotel Vintage, which was quite awkward for daily exploring because it was so far up the far hillside. It was very clean, and the rooms were large, with an easy triple room option however. 
In town, some good options are: 
Getting to Cochem
From Frankfurt or Düsseldorf, Cochem is about a two and a half hour journey by train, with one or two changes, depending on the time of day. From Cologne, it is about two hours with one change. It's a beautiful journey no matter which way you arrive, however, as most routes will take you along the Rhine and the Mosel. You can book your ticket right here in English:
Pin this for later!