The summer palace of the Prince Elector Palatinate in Schwetzingen is beautiful, standing at the end of a tree-lined avenue in the small town of the same name. The buildings are only a gateway, though, to the truly magical gardens that lie beyond the gates. Impressively, the palace has retained its extensive gardens, lawns, and various outbuildings including a mosque. 
History
The Prince Electors in Germany were powerful men who, as a group, chose the Holy Roman Emperor, and ruled over parts of the Empire themselves. When the Prince Elector Charles III Philip moved the court from Heidelberg to Mannheim around 1700, he started building work on a summer residence in Schwetzingen, as well as the main palace in Mannheim. He was particularly fond of music, and assembled an unusually large and skilled court orchestra. Mozart visited several times to perform at the summer palace, and definitely walked in the gardens.
The gardens are particularly interesting as they span two distinct styles prevalent in the 18th century. The highly structured and manicured French style dominates the initial views from the palace, but as you move further away from the central allé, you are presented with winding paths, woods, and streams. The gentler, more natural English style was taking over around the middle of the century, but instead of making over the entire garden, the court architect Nicolas de Pigage just combined the two.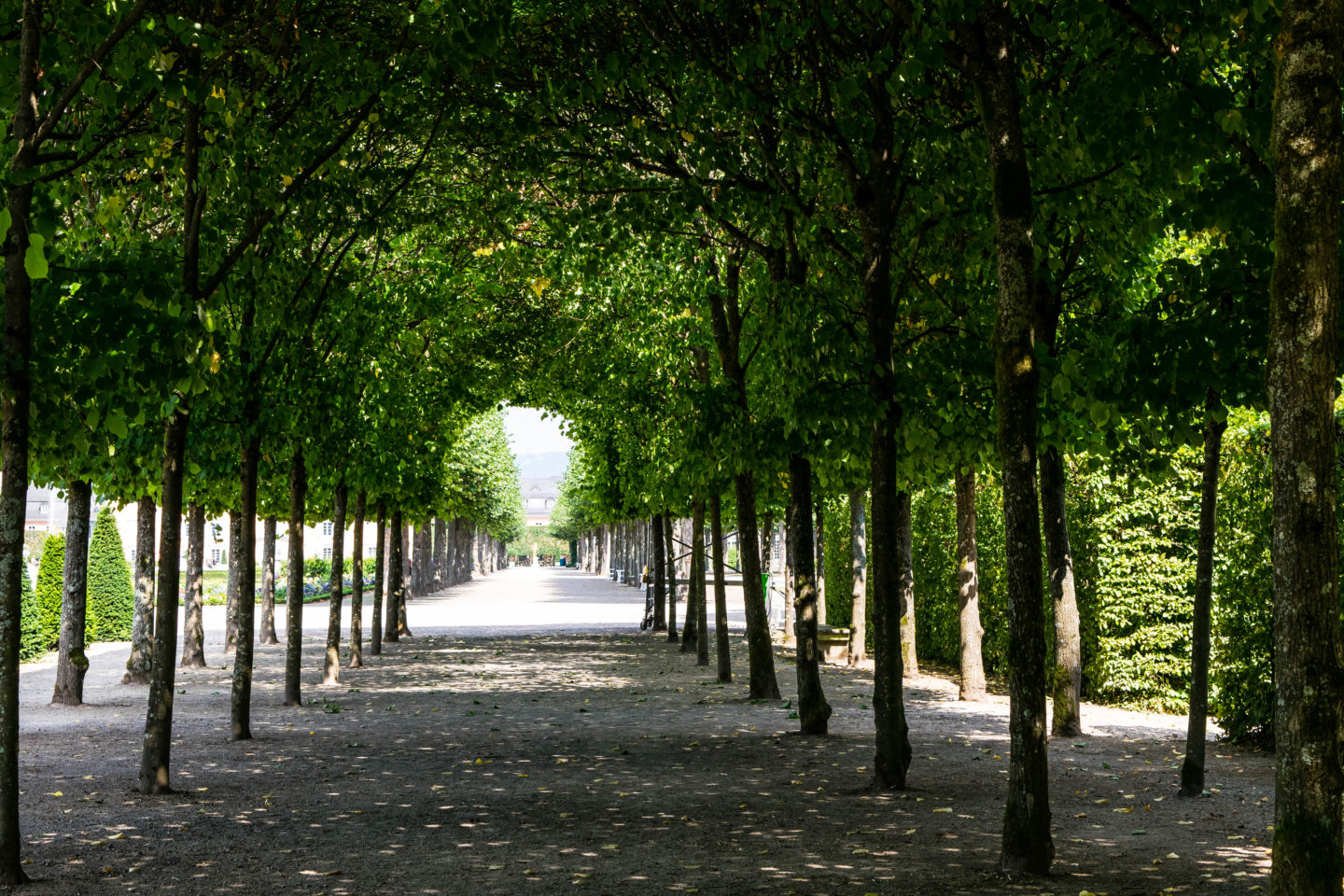 When to visit Schloss Schwetzingen
The summer is obviously a beautiful time to stroll in the gardens – everything is in bloom, and on a Saturday you will see many brides and wedding parties of all types having their photos taken. On hot days, escape the central area into the trees and many curling paths. There are endless pieces of statuary among the hedges and fountains. However, there are a few other times of year that are worth a visit as well. 
In the autumn, the changing leaves are spectacular all over the garden, but particularly beyond the Turkish garden, where the paths and a little river curls around a large garden folly that resembles a very small castle ruin. 
In the winter, after a snow fall, the gardens turn into Narnia. Many of the larger plants are tied up artfully with burlap and after a dusting of snow everything is transformed into some kind of sculptural snow topiary. 
Finally, possibly my favourite time to visit is in spring when the cherry blossoms come out. Just before you reach the Turkish garden is a large walled garden filled with cherry trees, and planted with bulbs. In spring the watery sunlight is trapped in this space, and it's almost like a taste of summer. The cherry blossoms are a joy to witness, and we try to bring a picnic to enjoy on the grass. You can check their website for details on the progress of the cherry blossoms, they usually have a Blossom Barometer! The last half of March or early April is a good bet, however. 
What to do at Schloss Schwetzingen
It is possible to see a few of the rooms inside the palace building, however like most German castles, you can only visit with a guided tour. English tours happen at the weekends at 2:15pm, though you can join the German tours that happen most days and read from a translated sheet. The tour lasts about an hour, and it's interesting, but I would say you could skip it without missing too much. The real draw of this site is the gardens. I have yet to do a garden tour, but they do offer them once a week, in German. 
Tour options at a glance:
English tour of the palace rooms (1 hour): Saturday and Sundays at 2:15pm
German tour of the palace rooms (1 hour): Spring (March 25th – May 2nd) Monday – Friday, hourly from 11am – 4pm, Saturday & Sunday & holidays, hourly from 10:30am – 5pm
Summer (May 3rd – September 27th) Monday – Friday, hourly from 11am – 4pm, except Thursdays when tours run hourly until 7pm, Saturday & Sunday & holidays, hourly from 10:30am – 5pm
Autumn (September 28th – October 27th) Monday – Friday, hourly from 11am – 4pm, Saturday & Sunday & holidays, hourly from 10:30am – 5pm
Winter (October 28th – March 23rd) Fridays at 2pm, Saturday & Sunday & holidays 11am, 1:30pm & 3pm
German tour of the palace and garden: Spring, Summer & Autumn, Monday – Friday, 2pm, Saturday & Sunday & holidays, 12 noon, 2pm & 4pm
German tour of the garden: Spring, Summer & Autumn, Saturday, 3pm
The entrance price varies accordingly to which tour you'd like to take. I know, it gets a bit confusing. Just entrance to the garden, with no tour, is 6€ for adults and 3€ for children, with a family price of 15€ (applies to two related adults and children). The standard English tour included with your entry price will make it 10€ for adults and 5€ for children, with a family price of 25€. If you are planning to visit Heidelberg as well, do think about getting the Baden-Württemberg Schlosscard, as you will save if you visit more than one site. 
It's worth noting that if you have a particularly wiggly child, the tour might be a challenge. I saw plenty of children on the tours however, so they are not discouraged by any means. As usual, you know your child best. However, there really isn't much in the way of interesting things – no armour or weapons, no clothing displays or toys. 
Of course, if you are a larger group, you can arrange a tour yourself, in whichever language you prefer. I have arranged one before, and the staff are very helpful and quick to respond. 
The best approach is to wander where your heart takes you really. The gardens are designed to give you the sense they go on forever, and I love just wandering and taking in all the little scenes as they appear. It is endlessly beautiful to photograph in any season, so make sure all your batteries are charged. Wear comfortable shoes, because you will be walking and walking. My favourite places are the main allé and the Turkish garden, but ask me after my next visit and I will have changed my mind!
Where to eat near Schloss Schwetzingen
The gardens have a small restaurant at the end of the wind to your right as you enter the gardens, but I have never visited. The tables outside look lovely, but I always seem to come upon it as I am leaving. There is also a very small cafe directly across from the ticket office before you enter the gardens properly. However, for a better deal, you will want to eat before you enter. All along the avenue approaching the palace are restaurants that put out their tables, there is always room and it's a beautiful spot to sit. On a warm summer's day, visitors often remark that it feels more like Italy than Germany. If you're looking for a sweet treat and a coffee, try Bäckerei Utz just past the bank on Carl-Theodor-Straße (that main road running up to the palace). If you're lucky, you can buy some chocolate shaped like asparagus. 
Schwetzingen is the centre of Spargel (white asparagus) growing in this region, and you'll see many references to it around the town. If you happen to visit in late spring or early summer, you will see Spargel on every menu, or even catch the Spargelfest. We witnessed the historic annual foot race involving wheelbarrows, aprons, gloves, hay bales, and shots of Schnapps. 
How to get to Schloss Schwetzingen
It's very easy to reach Schwetzingen from Frankfurt, it's one train to Mannheim and then a half hour bus to Schwetzingen that drops you straight in front of the palace. You can book your ticket right here, in English. 
If you're travelling within Baden-Württemberg, like from Heidelberg, or going on to Stuttgart, you can buy a Baden-Württemberg ticket at the train station that will also get you a 10% discount on your entrance ticket to the Schloss Schwetzingen. If you're travelling in a group, these tickets are often much cheaper. You can buy one right here: 
PS – Need help with packing for Germany? I've got you covered for packing for your Germany trip in spring or summer.
Pin this post for later: