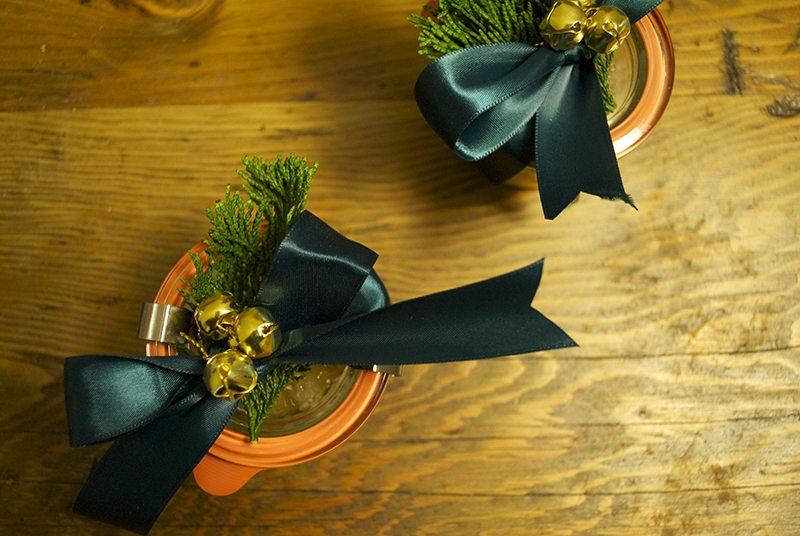 I love wrapping presents.
I start thinking about it in early December, I'm that into it. But I have to tell you I don't spend a fortune on materials, it is only wrapping after all. I'm sure most of you know at least some of these tricks to making your presents look beautiful, but I thought I'd share anyway.
Use plain kraft paper. You can buy a roll at a craft store, or even the post office. From here, you can potato stamp it all over, get your kids to splatter paint it in the garden, or use it plain.
Make a gift bag for those awkward shapes. Forget buying these things, making them is not hard. I love this tutorial that has you half wrap a couple of books for the shape. Kraft paper is great for this, or even that pile of nice wrapping paper you hoarded from last year (is this just me?). I don't even use tissue paper to stuff them, but baking parchment. Cheap and looks lovely against brown kraft paper.
Invest in fabric ribbon, a hole punch and a pair of decorative scissors. These are things I will spend some money on. Try a fabric store before a craft store, and look for real fabric, not poly blends. These drape beautifully and make any present look incredible, even if all you do is tie a bow. Often people will return your ribbon to you, or maybe it's just me. Ha. Decorative scissors work well on the top edge of those gift bags you whipped up, or evening out a small piece of wrapping paper that looks ragged.
Use greenery. A quick walk outside with some shears should provide a fistful of nice green bits – you're looking for evergreens, as they will keep their shape for a day or two outside of water. Even a few snips from the back of your (real) Christmas tree will work. Tuck underneath a bow for a spray of natural beauty. If you're really without any trees, try the grocery store or plant area of a big home improvement store: rosemary or bay sprigs look lovely and smell incredible, or a twist of ivy wrapped around a ribbon.
Keep leftover cuts of wrapping paper. Colour blocking looks deliberate when you actually ran out of a patterned paper, especially paired with plain kraft paper (see how handy it is?). Cut strips of beautiful paper and layer under ribbon. Make snowflakes with it and paste against a plain background.
Happy wrapping!